invisible helper
수영장 인클로저 Terra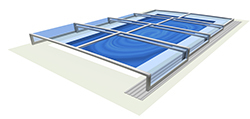 -IPC Team of Korea-
SPA International은 인클로저의 유일한 한국판매자로 모든 모델의 완벽한 설치를 약속드립니다.
어디서도 볼 수 없었던 수준의
사후 보장 서비스를 누려 보세요.
TERRA is the lowest pool enclosure from Alukov product range that almost copies the ground level. In closed position it lets you enjoy full view over your garden and swimming pool. While opened the pool enclosure is decent, not space demanding enclosure that suits modern home architecture. Those who look for almost inivisible enclosure yet want to have visible pool enclosure benefits such as protection of water against debris, water temperature regulation and protection againt unwilling fall into pool will appreciate this pool enclosure.
One rail system of pool enclosure Terra grants access without barriers from three sides of swimming pool, is space-savvy and easy to maintain. It is very easy to open or close the enclosure - even with one rail. It is a standard for all Alukov pool encloures - highest safety, custom made enclosure for every pool. The same you can expect from Terra.
Pool enclosure Terra - have your pool under control and let Terra blend in with your garden !
구조물 색상
기타 색상들도 문의 가능합니다.
폴리카보네이트 창 색상
슬라이딩 레일 색상